Free money on Inauguration day (almost)
Will Donald Trump be inaugurated for his second term as President of the USA on Inauguration Day, January 20th, 2021?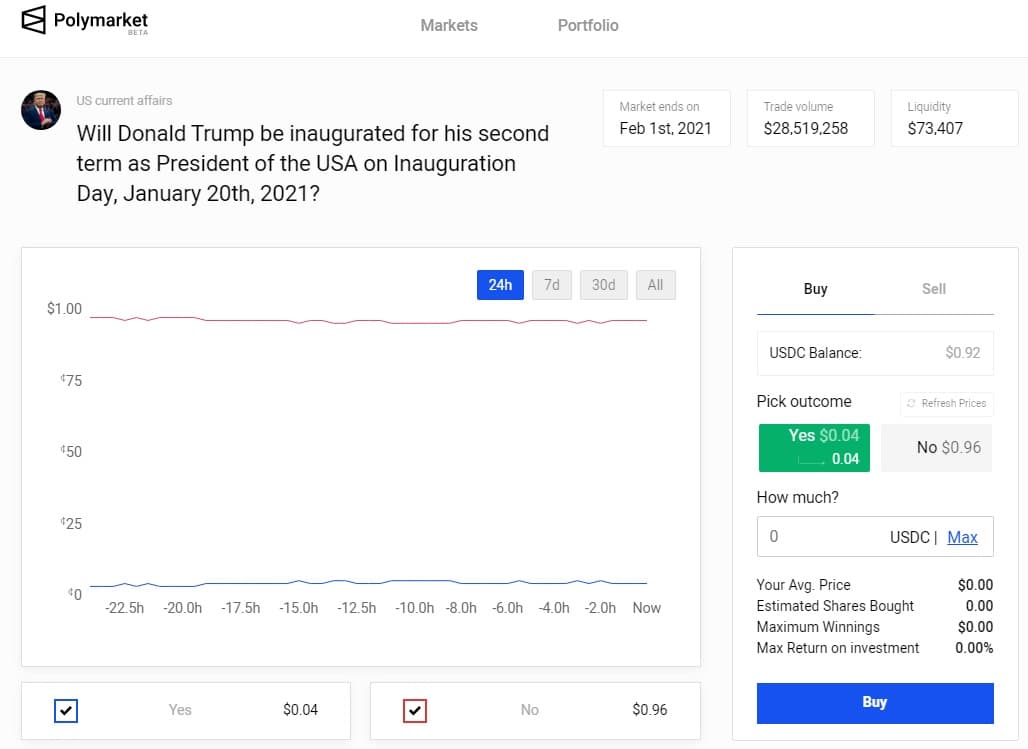 If you answered "No" to that question, then head on over to Polymarket where this contract is still trading for 4c, a week before Inauguration day. That's 208% annualized. Note that the Biden contract is trading at 88c at the time of this writing, meaning that there is an 8% probability assigned that neither gets inaugurated on January 20th. That is too high in my opinion, but shows prudent market pricing. That said, I am willing to bet a large sum that Trump will NOT get inaugurated on January 20th. (disclosure: I do own a substantial amount of the first market). Yes, there is a chance that what we witnessed last week will repeat itself next week. I cannot mathematically quantify that probability, however what I can safely say, is that any disruption to the Inauguration ceremonies will effectively result in zero chances of Trump's inauguration. 4% seems too high of a price for something that cannot be achieved without having a Coup d'éta on the American presidency. If you think there must be a catch, I have not been able to find one. Up until second week of December several prediction markets were still pricing Trump to win the US Election (yes, you read that right, a full month AFTER the election took place). Here is PredictIt's market on the US presidency that traded all the way to December 18th. It finally settled but never went above 95c until all the states certified the election.
Why is there an (almost) in the title? Because there is always credit risk in any financial transaction, so are transaction costs. There's never any free money, but right now this is as close as I can find it.
This is not investment advice. All opinions are my own, and you should do your own due diligence, as always.
This article was first published on Medium.